Bulky, heavy, direct: Unique SSD® DIY store logistics without cargo network
Die Anforderungen an die Baumarktlogistik sind hoch. Terrassendielen, Wandpaneele, Fliesen, Gartenbaustoffe, Gewächshäuser – jedes Teil ist unterschiedlich lang, breit und hoch. Nichts scheint zusammen zu passen. Während es den meisten Logistikern schon bei dem Gedanken daran die Schweißperlen auf die Stirn treibt, haben wir genau für diese speziellen Herausforderungen ein eigenes Logistikkonzept entwickelt: unsere SSD®-Baumarktlogistik. Sperrige, sensible und schwere Güter sicher und zuverlässig direkt ans Ziel bringen – für uns seit mehr als 25 Jahren tägliches Geschäft.
The demands on DIY store logistics are high. Terrace boards, wall panels, tiles, horticultural materials, greenhouses – each part is different in length, width and height. Nothing seems to go together. While most logisticians start sweating at the mere thought of it, we have developed our own logistics concept precisely for these special challenges: our SSD® DIY store logistics. Transporting bulky, sensitive and heavy goods safely and reliably directly to their destination – this has been our daily business for more than 25 years.
Through our individually tailored logistics solutions, which we implement with our own transport network, without resorting to the classic general cargo concept with multiple goods handling, we reduce damage and complaint rates for our customers and also optimize logistics costs.
CONTRACT LOGISTICS
Extensive value added services
(storage, picking, display construction, packaging, returns management,
pallet management, container unloading)
Quality management
Claim rate below 1% at a transport volume of over 100,000 shipments and more than 120,000 tons p.a.
TRANSPORT LOGISTICS
Nationwide direct delivery of DIY articles with a length of up to 6 meters
Delivery of parcels with a length of more than 3 meters
Scanner-based processing
No handling of goods in one go
Reduction of process costs
Reduction of damage and complaint rates
Permanent contact partner »One face to the customer«
NATIONWIDE DIRECT DELIVERY
OUR SPECIALITY - THE TRANSPORT OF BULKY, SENSITIVE AND HEAVY GOODS
DER TRANSPORT VON SPERRIGEN, SENSIBLEN UND SCHWEREN GÜTERN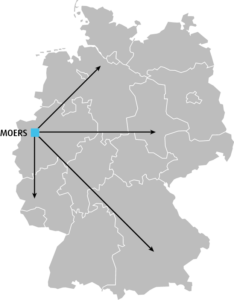 For this, we have developed a special concept at the Moers site: SSD® DIY store logistics. SSD® stands for Sperrig, Schwer, Direkt (Engl. Bulky, Heavy, Direct). The bulky goods are delivered directly from Moers throughout Germany. Our drivers are therefore also the deliverers. Compared to conventional general cargo distribution, this has the advantage that the goods are not handled in one go.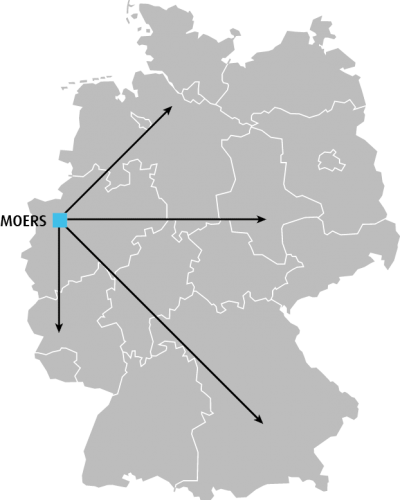 THE DIFFERENCE BETWEEN SYSTEM-DEPENDENT CARGO GOODS DISTRIBUTION
VIA CARGO GOODS COOPERATIONS AND OUR LOGISTICS CONCEPT

SSD® DIY store logistics is the independent and individually tailored logistics solution in the form of a nationwide direct delivery.
WE DELIVER TO ALL REPUTABLE DIY STORES FOR OUR CUSTOMERS AND
ARE OFFICIAL LOGISTICS PARTNERS OF SYNLOG – DIY AND GARDEN LOGISTICS
UND SIND OFFIZIELLER LOGISTIKPARTNER VON SYNLOG – DIY UND GARTENLOGISTIK
Numerous customers trust us with their sensitive goods for all well-known DIY store groups. Our SSD® concept has also convinced the SynLOG – DIY and Garden Logistics. Since 2017 we have been the official logistics partner of the joint logistics initiative of the two manufacturers' associations Haus und Garten and Industrieverband Garten (IVG).
DIY STORE LOGISTICS CONTACT PARTNERS
DO YOU WANT TO BE SURE YOUR PRODUCTS ARE IN GOOD HANDS? THEN GET IN TOUCH!
DANN SPRECHEN SIE UNS AN!
Controlling | Business Development

...ODER SCHREIBEN SIE UNS.